2016 PROSPECTING
Are You "PAAR" for the Course?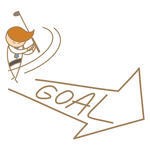 Have you ever noticed that your stress level rises when you're not making as much money as you think you should? In golf, an excellent round occurs when you've "pared the course". This is an impressive feat even for professional golfers because it means you've mastered the game.
Let's apply this concept to success in real estate. You can't "par the course" until you've trained your brain to master the art of prospecting. Typically, agents underestimate the importance of "rain-making", which simply means generating unlimited new business opportunities. That's why many highly organized, extremely efficient professionals never seem to do well in real estate, while disorganized, inefficient agents that never seem to follow through, earn piles of cash. Simply put, your ability to "rain-make" dictates how much money you'll earn in real estate.
Let's return to the golf analogy and for our purposes, add an extra "a" to the word par, creating a new acronym, PAAR. Each letter symbolizes a critical step in the rain-making process.
Prospecting  Initiating some form of contact with a person to generate new  business.
Appointments  Successful prospecting ultimately leads to appointments.
Accounts – New appointments will usually lead to new accounts, contracts or new business.
Referrals – Once new accounts are established, the easiest form of prospecting comes from referrals, thus the process repeats itself with even greater success.
Mastering the art of rain-making is simply a matter of developing the rain-making habits through spaced-repetition. At the end of every day, document your activities involving Prospecting, Appointments, Accounts and Referrals. Grade your performance, but be honest with yourself. Then, document what you expect the PAAR activities will be for the next day. Remember: there is no better time than now to begin building this skill.