2016 PROSPECTING
Capturing the Elusive Prospect
Our clients are so busy these days, it's sometimes nearly impossible to schedule time with them, despite the fact that we know they have a definite interest in working with us. They can be elusive even after you've met and discussed moving forward. As a matter of fact, if they were elusive the first time, they're very likely to exhibit the same behavior again in the future. The trick to capturing the elusive prospect is to never let go once you've got them.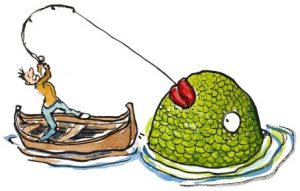 Hooking a great new client is just like fishing, except that "Catch and release" doesn't apply.  You would never think about letting a trophy fish go once you got them on the line. Likewise, once you have your "trophy prospect" hooked, don't let them get away. How exactly does this work? Quite simply, the goal is to always have a next step before you complete the communication. By getting your client to commit to a definite next step, you'll rarely spend time having to chase them down to finalize business.
Consider the following examples:
You're at an open house. You meet a couple that wants to buy in the near future. Instead of just telling them you'll call to schedule a time to get together, you:
Offer to research a specific topic of interest and drop it off
Schedule an appointment to show them homes
Secure their contact information to send them your comprehensive trend forecast as soon as it is completed.
You show properties to a prospective buyer. Instead of calling them later, you pencil in a definite time and day for your next meeting.
You send a recap of recent activities or some other correspondence. Instead of asking your client to give you a call, you ask them to respond to the information by asking them: "What are your thoughts?"
You finish a listing presentation and the seller lets you know that they will contact you as soon as they've met another agent and made a decision. Instead of foolishly believing you're the front-runner, and just have to wait for the confirmation, you make sure some piece of information that is critical to their decision is missing. You insist on dropping it off the following morning as there are a couple of key points you need to make as part of their review of the information.
In each of the above cases, there was a specific next step that the buyer or seller has agreed to prior to the appointment ending. This approach should save you endless phone calls.