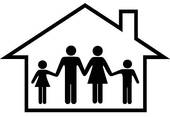 Parents who have the financial means, and are interested in providing for their children's future financial security should give purchasing Real Estate a serious look.  What other investment vehicle affords parents the ability to take $10,000-$20,000 now and within 20 years, turn it into over $300,000?
   Using race track betting terminology, investors this year have an opportunity to hit the trifecta based the following:
Interest rates will never be lower and have recently begun to increase – Parents can borrow money at a 3-4% fixed rate now, and benefit their children for the next 30 years. Talk about cheap money! But don't expect rates to stay this low for much longer. There has already been talk of rates significantly increasing in the near future.
Prices will never be lower and have already increased this year – The opportunity to recapture appreciation that was lost in recent years due to an over-correction in prices, could result in an additional 30%+ in profit for investors over the next few years.
Residual income – Positive cash flow will continue to grow every year, as rental rates continue to rise at an average of 3% per year.
    In addition to the attractive benefits outlined above, when the title to the property being purchased is put in trust with the children as beneficiaries, parents can avoid paying inheritance tax on the appreciated value of the Real Estate.  If the property is treated as an investment and rented out, the value of the purchase (less land expenses), can be depreciated to help offset the rental income for tax purposes.
    There may never be a better time for parents to secure the future financial security of their children.  All parents with the financial means should consider purchasing and financing residential property while the window of opportunity is still open.