2017 PROSPECTING


Take The Shots: The Market is On Fire!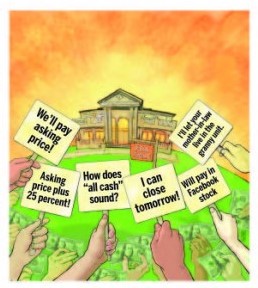 Let me spell this out very clearly. The Real Estate Market Is On Fire!  Preliminary reports for 2013 are in from all over the U.S. and the data is very telling. Many Agents are as busy now as they were during the height of the market. Other agents are still sitting around waiting for business to come to them. They'll never learn, too bad! Which Agent are You?
It's the Perfect Storm for Realtors!
So, here's the deal.
All that pent-up Buyer Demand is coming to fruition as Buyers sense a recovery and start to make offers.
All that pent-up Seller Frustration is finally being released, as sellers temporarily agree to more realistic prices.
The economic indicators are pointing to "All Systems Go", and are only getting better.
If you hurry, you can "proactively" use the following script to take advantage of easy business with your past clients, advocates and sphere of influence, and beat the crowd of realtors that will "react" to the market and figure it out later. Here's the scenario; you see someone that you haven't seen in a while and you use the following script: (Change the words and use yours, if you prefer.)
"Have you heard about the tremendous uptick in the Real Estate Market already this year? It looks like the Market will recover the same way the stock market did. I wouldn't be surprised if we quickly recover most of our lost value, just like the stock market did, considering the amount of new activity I'm seeing.
If you happen to know of anyone that's thinking about moving, please don't keep me a secret. By the Way, I'm preparing important pricing updates for my best clients. They've told me they really appreciate keeping up with the real estate market trends because it lets them know they're finally starting to make money again.
If you would like, I'd be happy to share data with you.  What's your best e-mail address?