February's Housing Stats Show No Recovery Yet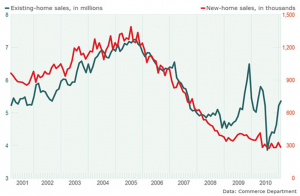 New and existing housing once again posted records for poor performance. Consider these key facts as reported by the Commerce Department this week for February:
Existing Home Sales:
Dropped 9.6% to a seasonally adjusted 4.88 million units, from last month.
Dropped 2.8% from February 2010.
Median price of $156,000 reflects a 5.2% drop from January.
A record 33% of all sales were cash sales, indicating that financing may still be a problem, and investors are most likely taking advantage of distressed property pricing.
39% of all sales involved distressed properties, up slightly from a year ago at 35%, and from January at 34%.
Inventory levels were down slightly from February 2010 with 3.49 million homes available for sale.
New Home Sales:
Fell 16.9% from January to a seasonally adjusted annual rate of 250,000, the slowest pace of sales on record.
Median sales prices dropped 13.9% since January, the sharpest one month drop on record.
Median sales price for February 2011 was $202,100.