Relationship Management – The Real Estate Market Continues Down the Road to Normal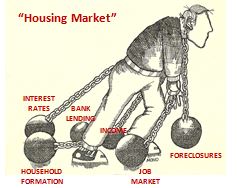 Housing Trend– After posting strong gains in 2013, the housing market seemed to have lost steam during the first half of 2014. Experts are predicting that the same drivers that have stalled growth in the first half of this year will continue to be a drag on the housing and real estate markets during the second half of this year. Consider the following key facts that are having an impact on the real estate market:
Fed Projections – The Fed Reserve's Federal Open Market Committee has indicated that the real estate recovery's lost traction is due to low household formation and residential construction numbers. The report also states that residential investment is still 45% below its pre-recession peak.
Income – "Below average growth in median household income, labor force participation, bank lending and household formation will continue to be problems during the second half of this year". – Nela Richardson, chief economist for Redfin.
First-Time Home Buyers– According to the National Association of Realtors, first time home buyers now comprise a relative low percentage of sales, as more and more young people continue to live with their parents or move into rental properties. "The lack of buying activity among people under 34 is entirely due to demographic changes, as this group is marrying and having children later." – Jed Kolko, chief economist at Trulia.com.
Foreclosures– "The foreclosure crisis is ending. Fewer home sales involve distressed properties, which has led to fewer investor sales and a leveling off of prices because there are fewer bargains left. Foreclosures typically sell at a discount of 20%. Last year distressed home sales accounted for 15% of all sales, while this year the percentage has dropped to 11%." (foreclosures – 8% and short sales – 3%) – Lawrence Yun,  chief economist at NAR (National Association of Realtors).  Foreclosure activity in June was at its lowest level since August of 2006 – RealtyTrac.
Prices– Prices continue to rise, but at a slower pace. "Through June 30th, prices are up just 9% year-over year." – Michael Simonsen, CEO of Altos Research. "Prices are expected to be up about 5% by the end of this calendar year, (compared to last year's 11.5%)" – Stan Humphries, chief economist at Zillow, Mark Fleming, chief economist at Corelogic.
Supply – The supply of homes increased 2.2% in June to 2.3 million existing homes for sale. That's a current inventory level of a 5.5 month's supply of homes for sale, compared to 4.9 months in January, according to NAR statistics. The additional inventory improves the selection of homes available for buyers, which could lead to more sales.
Sales – Existing home sales increased in June to an annual pace of 5.04 million homes, the highest level since October 2013.  The increase was 2.3% below the 5.16 million homes sold a year ago.