THE HISTORY OF INTEREST RATES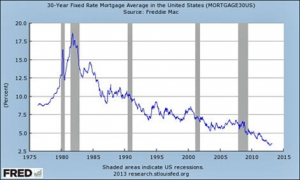 1. For nearly 30 years, the interest rate averaged around 7.5%-8.0%.  But, with the Fed Policy of Quantitative easing, the rates have been artificially low at around 4%.
2. With the Fed modifying it's policy, nearly every expert agrees rates will increase. Many experts expect rates to return to the 7.5%-8% in the near future.
3. Since 1965 the interest rate has averaged about 8.5% Should we expect this be the norm again in the near future?
4.  If you're thinking about buying, the risks associated with rising interest rates suggest you purchase now, while housing is till most affordable.