This is another good one for you to send to buyers…
Where Should You Put Your Money?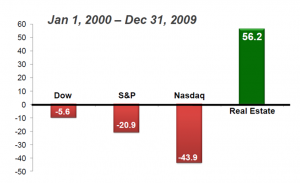 How does the return on real estate compare to the return from stocks since January 1, 2001?
Real estate has appreciated 45% without recovering yet.
Dow is up 5.8%.
S&P is down 12%.
NASDAQ is down 34%.
The return on real estate has completely out-performed the return on stocks since 2000 even though the stock market has recovered most of its losses since its low in 2007 and real estate still has a long way to go before prices recover. Imagine how much better the real estate return will be as we recapture more of the lost appreciation.
These numbers also don't include payment of rent on real estate investments or dividends paid on stocks.  When you compare rental income to dividends paid, the return on real estate crushes the return on stocks and will only get better as rental rates continue to climb.