2015 PROSPECTING
Targeting Expired Listings (part 1)
   Targeting expired listings should be one of your top prospecting campaigns. It only makes sense to target homeowners that you know have already expressed a desire to sell. Your expired prospecting campaign should encompass all three forms of communication, face-to-face, phone and direct mail. We suggest that you use the following steps to begin developing your expired listing campaign:
1. Identify the time period and specific area you want to target. Keep in mind every agent will chase listings that have just expired so it makes sense to go back a year or two, as most agents have long forgotten about these listings.
2. Set up your search criteria to include: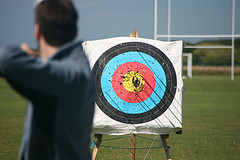 • Expired and Withdrawn listings
• Specific areas or neighborhoods you want to focus on
• Expiration date from 01/01/2010
• Price restriction – list price over $_________
• Ownership Type – Single-Family, Condos or All Residential
3. Scrub the list of results you get by checking the listing history of every address. If a property was sold or re-listed, and is now active, remove it from your list.
4. Prepare a Master Expired Listing Prospecting book. You should have at least 70-100 expired listings that you have identified and want to pursue. Print out a copy of each listing sheet and organize your Expired Listing, a.k.a. (money) book, numerically by address. Check the tax records to obtain the valid mailing address for each expired listing property owner. Hand-write any additional addresses on the back of the listing sheets.
5. Research the phone number of each homeowner. Do not forget to Google the name of each property owner. You will be surprised at how many business phone numbers you can get from Linked-In and Facebook profiles.
6. Congratulations! You are now ready to begin your weekly communication campaign. Whenever practical and possible, drop by or try to call each expired listing prospect. It is also imperative that you direct mail something to each prospect every week. This regimen should be strictly followed until the expired listing homeowner: Lists the property with you, lists the property with someone else, sells the property, or tells you to stop contacting them.