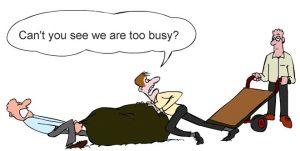 Between appointments, phone calls, e-mails, text messages, project management, and personal obligations, it seems like everyone is overwhelmed just trying to keep up. In many cases, prospective buyers and sellers can appear to be annoyed when you're calling to discuss real estate with them. It's usually because they're in a rush trying to get everything done and trying to add one more thing becomes stressful.  You can imagine just how important it is for you to be respectful of everyone's time, especially when you're contacting them over the phone. The approach listed below can be an effective way for you to introduce yourself.
Nancy, this is Joe McAuliffe, "did I catch you at a good time?" Or, "Do you have a minute?"
Follow up with: "I know you're busy, so I'll be brief." Or, "I know you're busy, so let me get right to the point."
By asking permission to speak with them about the information you would like to discuss, you soften their reaction to your call, especially if they're overwhelmed or in the middle of something, such as a project or dinner. It also shows you are respectful of their time and won't waste it. If the response to the first question indicates they are involved in an issue that is more pressing, back off and offer to call them at a more convenient time. One other suggestion you should consider:  If the person on the other line, or that you're meeting, says, "yes, I can talk, but I only have a minute," then only stay or talk on the phone for a minute. Conversely, if they have the time to talk and have questions, plan on spending as much time as you can, building a healthy relationship.
So, go ahead and try the above approach. You might be surprised just how helpful the right introduction can be!